Podcast: Download
Who turns women on the most? Smiling Guys or Frowning Guys?
Recently, there's been a lot of talk about a University of British Columbia study that's been circulating all over the news and Internet. The study says that women are turned off by guys who smile, but they're turned on by guys who don't. But is this REALLY true? Listen up as V.U. takes aim at the topic at point blank range!
What causes 50% of all problems that men have with attracting and keeping women?
What factors into a woman's view of what makes a man attractive to her?
Can the look on your face make or break your chances with women?
What can acting like the shape-shifting robots—-"The Transformers" teach you about how NOT to attract women?
Also, on today's show:
Why do more people HATE when they see you succeed rather than CONGRATULATE you on your success?
What is the definition of a true Friend?
What are the top 3 reasons why your success causes other people to react negatively towards you?
What do you do when your friends turn to foes?
What is the "Middle of the Night" friendship test? And how can it show you who your real friends are?
What do other people's comfort zones have to do with YOUR advancement or personal development?
What can Jack Bauer's behavior on any old episode of 24 teach you about how NOT to approach random women on the street?
Find out all this and listen to the first installment of a brand new segment on the Victory Unlimited Show called "Exposing Enemy Propaganda"!

Photo by Barry Zee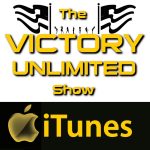 If you like this post, please pull the trigger and shoot it at everybody else by SHARING: