Podcast: Download
On today's Victory Unlimited Show, we get hit with incoming calls and emails about one subject in particular:
"How do you meet new people to date in a tough economy?"
Yes, how do you date without breaking your bank account? The answer is…"Occupy Wal-Mart"! Yes, "Occupy Wal-Mart" is a comical catchphrase that's used to describe how a lot of guys are now choosing to find their next dates while out "shopping" this Holiday Season as opposed to just going out "clubbing" like they would usually do.
That's right. In an act of rebellion against wasteful spending and overinflated nightclub cover charges, many men have begun to realize that it's possible to meet quite a few women simply while out shopping at malls, grocery stores, or at large department stores like Wal-Mart.
Is this a growing trend? Are women out doing this too? Is this really a new dating movement——or is it just a frugal and very realistic response to our current economic times?
On the surface, it seems to make perfect sense:
Why pay a cover charge "in the hopes" that you'll meet someone when you can probably meet someone just as easily while you're out picking up a few items at your neighborhood store? After all, we all have to go to the store at some point anyway, right?
On today's Mission, you'll be briefed on:
What happens when a caller trying to contact the Victory Unlimited Show dials the wrong number instead?
What is "Occupy Wal-Mart?"

What are the 4 reasons why some women don't make eye contact with men that they don't know?

What do you call guys who follow women around department stores—–but never get up enough nerve to approach them?

What are the 3 main reasons why most women go to nightclubs?

Propaganda Alert: Are nightclubs, parties, and social functions really the best places to meet new people?

What are 5 advantages to meeting people while they're out and about doing everyday things?

What is the best strategy for you to use to meet women at places like Wal-Mart and other grocery stores and department stores?

How can overcoming your fear of talking to strangers help you in all the other areas of your life?

Find out all this and MORE on today's show!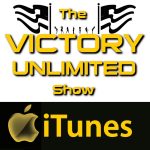 The Fans' Favorite Victory Unlimited Shows:
Mission #1 – Objective: What is…the Denzel Washington/Sidney Poitier Swagger Factor?
Mission #6 – Objective: The New Year, New Babe Launch!
Mission #10 – Objective: What is…the Phoenix Chick?
Mission #5 – Objective: The Top Ten Ways to get a Girl before the Holiday Season is Over!
Mission #4 – Objective: Hardcore Hope for lonely, depressed, and frustrated men everywhere!
If you like this post, please pull the trigger and shoot it at everybody else by SHARING: