Podcast: Download
On this Mission
Can a "Player" get captured by the "Game"?
What do players and hunters have in common?

Is there an upside to announcing the kind of relationship you want with someone early on?

What can make a woman cutoff all contact with you———even when things are going well?

What are the three categories of dating, and how do you know which category you're currently in?

How do you know when it's the right time for you and the person you're dating to have "The Conversation"?

Who are really the best players——–Men or Women?
SHE'S not that into you…
Is there really such a thing as a truly equal relationship?

What's the real reason why you see so many relationships where one person is working harder to keep it together than the other?

How long should you stay in a one-sided relationship?

What's a MAJOR cause of all the time management, communication, and sexual attraction problems in most relationships?

There's a new prescription drug on the market called "Not-that-into-ya". It's designed to soothe the symptoms of romantic loneliness, but be careful——because it's got a lot of bad side-effects! Should you take it? Or have you taken it already?
Find out about all this and MORE on today's show!
PLUS:
At the beginning of today's show, listen to a special, closed-door, Victory Unlimited Show news conference. It's broadcasted from a top secret location by the high-ranking members of the V.U. Press Corp.!
Enjoy!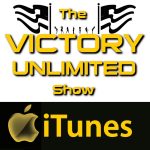 Fan Favorite Shows: