Podcast: Download
On this Mission
It's the start of a brand new year…are you ready for it? If you're not, then you'd better GET READY!
The Victory Unlimited Show is BACK!
New Year! New Intel! New Shows! SAME MISSION!
…to help men become BETTER men in all areas of their lives——but especially in the areas of dating and relationships.
On this Mission:
Three Different SOS messages sent to V.U. from three different guys——but all with the same dilemma:
They've all been hit by "Break Up Bombs" thrown at them from the women in their lives.
Victory Unlimited dispenses in-depth, rapid fire Intel to the guys to explain to each of them WHAT happened, WHY it happened, and HOW to use everything that's happened to THEIR advantage!
During this broadcast, V.U. drops knowledge on:
What tempts men to go back to women who've dumped them?
Is it EVER a good idea to get back with an old girlfriend?
What is…The Winter Wipe-out?
What's a Dear John Letter?
Who is MORE emotional—–men or women? The ANSWER will surprise you…
Why do some women in relationships turn into "Actresses in the theater of War?"
And this is all just in the 1st segment of the show…
Also on this Mission:
Victory Unlimited, on board the U.S.S. Victory gives a rousing "wartime" speech to motivate men EVERYWHERE to have their best year EVER!!!
Don't MISS IT!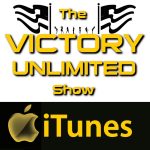 If you like this post, please pull the trigger and shoot it at everybody else by SHARING: