Podcast: Download
On this Mission
Why do all the wrong women from your past ALWAYS show back up in your life just when you've finally gotten over them?
Listen up as Victory Unlimited drops a cluster of Knowledge Bombs to answer the following questions:
What are Blacklist Babes, Strikethrough Sistas, and Cross-out Chicks——-and what makes them so DANGEROUS to you?
What are the 3 most common reasons why these women go back to their old boyfriends?
What's a Close-Range Thinker and what's a Long-Range Thinker???
The Ghosts of Girlfriends Past! What can Horror Movies teach you about why some women from your past like to come back and haunt you?
What lessons do the Wesley Snipes' BLADE movies teach you about why it's so crucial to "put to death" bad relationships——–once and for all?
Why are most "chick flicks" BAD for your relationship education?
What makes NOSTALGIA an enemy to most men's future hopes and dreams?
What are Relationship War Crimes?
And much, much more!
Take cover, troops! V.U. is taking NO PRISONERS on this one!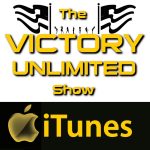 If you like this post, please pull the trigger and shoot it at everybody else by SHARING: