Podcast: Download
On this Mission:
Top Secret Intel revealed on how to advance on the most popular, attractive women!
Fred G. writes into headquarters with something very serious on his mind:
"How the heck do you approach a popular, attractive woman who gets hit on all the time?"
A BIG question that deserves an even BIGGER answer…and Victory Unlimited DELIVERS! Never before Intel that comes straight from the Victory Unlimited Battle Plan itself!
Victory Unlimited drops knowledge on:
Why most guys approach attractive women the WRONG way
What you should talk about when you make a move on an attractive woman
Why some guys never know when a woman is checking them out
What kind of attitude nice guys and shy guys need to have at ALL times when they're talking to Bomb Level Babes
Why sometimes it's better to ask a girl out on the spot——rather than just ask her for her cell phone number
The different strategies you can use to get to know the attractive women that you see on a routine basis
Why fantasizing and agonizing over a woman is worse than the risk of facing rejection
The best way to change the way you look at rejection FOREVER
Why you should ALWAYS go after the kind of women you really want—–no matter HOW "attractive or unattractive" you may think you are
And much, much MORE!
That's right, Troops!
Get ready for another thoroughly informative show brought to you by all the good men and women who regularly support the Victory Unlimited Show.
Enjoy!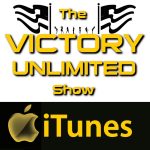 If you like this post, please pull the trigger and shoot it at everybody else by SHARING: